The self-editable EPC and PCT reference books
No more marking a printed legal text by hand and watching the marked-up book to become outdated with the next version...
What are the EPC.App / PCT.App?
EPC.App is an annotated European Patent Convention (EPC) and PCT.App an annotated Patent Cooperation Treaty (PCT), which allow each user to further annotate them electronically and to receive updates from the authors without losing individual user annotations.
EPC.App /PCT.App are electronic books implemented as a web browser application, which offer for registered users:
to access and navigate the annotated legal text from anywhere via an internet connection (preferably on a display of 10" or larger)

remove individual authors' markings
change marking styles and colors
hide individual authors' comments and legal contents

markings of the legal text
comments as separate text blocks (with links to other parts)
further elements selectable from a comprehensive database of relevant legal contents

to receive automatic updates of legal texts and authors' comments (each year in April and November)
to create a printable PDF-file as offline version or backup, which includes all self-edited annotations and closely reproduces the layout from the web browser application
For whom are the EPC.App / PCT.App?
EPC.App and PCT.App are intended for both the Practitioner and the Trainee. They are dedicated to be used when preparing for the European Qualifying Examination (EQE) and for working as a Professional thereafter.
People are different. We believe that the optimum preparation for the EQE requires an annotated EPC / PCT which is adapted to the personal needs of the respective user
EPC.App /PCT.App provide a platform and a starting point for doing this efficiently

start with authors' content selections, comments, and markings
adapt all authors' contributions according to your wishes, and add own comments and markings
receive authors' updates during your exam preparation process without losing already created own annotations

There are great books full of detailed information on the EPC / PCT
EPC.App / PCT.App help finding the most relevant information quickly

by filtering out less important information
by allowing electronic content search
by providing links to other parts of the EPC / PCT and external websites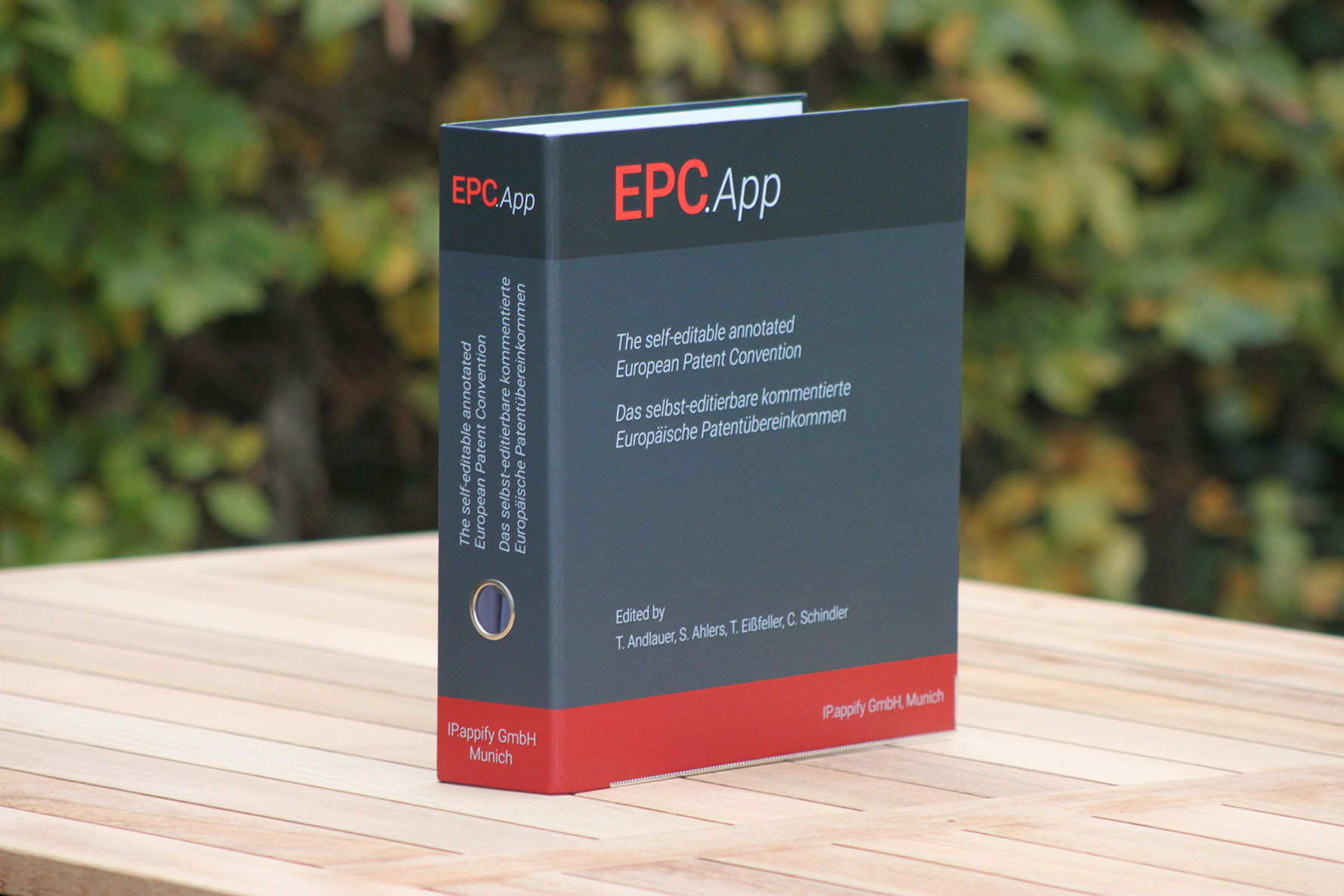 If you are interested in the displayed folder (as long as stocks last), please send an e-mail to support@ipappify.de.
It requires a lot of time and discipline to keep a once prepared EPC / PCT up-to-date
EPC.App / PCT.App allow doing this in a time-saving and convenient manner

by author-provided automatic updates
by automatically generated notes informing which of your own comments require reconsideration, and automatic copying of unaffected comments

It is difficult to efficiently remember important case law retrieved over time
EPC.App / PCT.App allow building up your own annotated case law database (video)

plural thousands Boards of Appeal decisions including headnotes and web-links to the full text, and the possibility to add own summarizing comments
variable placement of decision (e.g. next to a related article)
always available in a cloud storage as well as in a printable local pdf copy
The PCT.App is now updated to legal status of 1st July 2020. Major changes are indicated by blue update notes in the App as explained in the FAQs; a further list of detailed changes can be found here.
In addition to the legal update, the author Pete Pollard has largely revised the book compared to the previous edition, by condensing the content and improving readability while still retaining the characteristic topic-based structure.
We published also the PCT.App September 2020 Edition as stand-alone paperback version on Amazon (www.amazon.co.uk or in your local marketplace). The second version on thin 50g paper for convenient transport is available via boekenbestellen.nl.
Coming soon: A German version of PCT.App is almost complete and to be released in the next weeks.
The EPC.App April 2020 Edition is now available as stand-alone paperback version on Amazon (www.amazon.co.uk or in your local marketplace). All those who start with this classical book and afterwards decide to continue with the electronic version qualify for a discount of 50% on the first annual license of the EPC.App.
The online PDF-generator has been enhanced both for EPC.App and PCT.App, and now provides all cross-references as links in the PDF. The index of EPC.App and PCT.App has been extended to include additional content elements, and font embedding in the PDF is improved for enhanced compatibility with older printers.
The recently enlarged EPC.App database may be used to build your own annotated case law database. This 2-minute video in our youtube channel demonstrates available functions.
If you moreover feel there might be still room to optimize your PCT knowledge, the stand-alone PCT.App paperback is now also available in a thinner version (2.3 cm thick) on 50g bible paper for more convenient transport via boekenbestellen.nl. The content is the same as in the Amazon version (4.1 cm thick) which is on strong 90g paper for heavy usage.
The integrated case-law database has been enlarged to now include all ever issued decisions of the EPO Boards of Appeal (more than 35,000 until February 2020). See our FAQs for further details on how to cite or add these contents to build your own annotated case-law database .
Moreover, the license management has been adapted to allow online license upgrades. Further information can be found here.
If you ordered the PCT.App paperback on Amazon on or before 5th December 2019, you may have received a version with an incorrect index of articles and rules. A corrected version of the index is meanwhile included and can further be downloaded here.
If you are affected and unhappy with sticking the correction into the book, please contact us via support@ipappify.de and we will send you a replacement.
For all those who prefer to start with classical books, we now also published the EPC.App and PCT.App November 2019 Editions as stand-alone paperback versions - both updated to legal status relevant for EQE 2020 - on Amazon (available marketplaces are listed here for EPC.App and here for PCT.App).
The new editions come in a convenient smaller format (24x17cm, EPC.App 2.5 cm thick / PCT.App 4.1 cm) with a black-and-white layout.
Now also the PCT.App November 2019 update is finished. We used this occasion to review and fine-tune the book, taking also early user feedback into account.
As usual, amendments are further indicated by blue update notes in the App as explained in the FAQs.
The EPC.App is now updated to legal status of 1st November 2019 and thereby brought in line with the law in force as relevant for EQE 2020.
This update includes the Official Journal and Supplementary publications until October 2019, amendments to the implementing regulations (Rule 126 EPC), recent BoA case law until October 2019, the 9th edition of the "Case Law of the Boards of Appeal" (July 2019), and the EPO Guidelines for Examination (November 2019 edition), all in accordance with our update policy.
It's done! We are proud to announce the release of the second electronic book PCT.App – The self-editable commented Patent Cooperation Treaty, edited by T. Andlauer, S. Ahlers, T. Eißfeller and P. Pollard.

For further details please refer to the PCT.App page.
On Saturday, 31.08.2019 and Sunday, 01.09.2019, there was an issue with an expired SSL certificate for my.epcapp.net und www.epcapp.net due to a general configuration issue affecting web sites hosted on Microsoft Azure.

In situations like these, you can obtain early additional information in our facebook user forum.
We are happy and proud to announce that Pete Pollard has joined our team as further author for the next book using the EPC.App platform: PCT.App – The self-editable commented Patent Cooperation Treaty (more details here).
For all those who prefer to start with a classical book, a printed version of EPC.App (April 2019 Edition) with all authors' annotations can also be ordered as paperback on Amazon (www.amazon.co.uk or in your local marketplace). This version has US-letter format (2.6cm thick), our default color layout, and an additonal edge index for different parts of the EPC, which is visible on the closed book's edge.
We now updated the content of the EPC.App to legal status of 1st April 2019 and also included all valuable feedback from our EQE users. For more detailed information, please refer to the FAQ.

In the App, all changes are explained by blue update notes and you can conveniently jump through the electronic book from one change to the other using the notes assistant.

The update notes can also be exported to the PDF to track amended pages and minimize printing effort for replacements.
EPC.App provides new options of adapting the book layout to your personal preferences.

After login, under "Settings", the marking styles (e.g. underline, highlight, bold, ...) can now be changed per marking category, and then consistently affect all markings of the changed type throughout the book, both in the Web browser view and in the generated PDF.
New PDF generation options for optimizing the PDF either for printout as a loose-leaf collection or for electronic reading / creating a bound printed book. Depending on the setting, the total number of pages in the PDF can be reduced by more than 250 without removing any real content of the book.
Completion of pre-release test phase and official start of usage for everybody with updated legal status (1st November 2018, usable for EQE 2019). As of now, users can purchase permanent licenses after signing in to the EPC.App user area.