The self-editable annotated European Patent Convention
No more marking a printed EPC commentary by hand and watching the marked-up book to become outdated with the next version...
What is the EPC.App?
EPC.App is an annotated European Patent Convention (EPC), which allows each user to further annotate it electronically and to receive updates from the authors without losing individual user annotations.
EPC.App is an electronic book implemented as a web browser application, which offers for registered users:
to access and navigate the annotated EPC from anywhere via an internet connection (preferably on a display of 10" or larger)

to adapt authors' annotations to personal preferencesarrow_drop_down

remove individual authors' markings
change marking styles
hide individual authors' comments and legal contents

to add own annotations, which get stored in the cloudarrow_drop_down

markings of the legal text
comments as separate text blocks (with links to other parts)
further elements selectable from a comprehensive database of relevant legal contents

to receive automatic updates of legal texts and authors' comments twice per year (in November and in April)

to create a printable PDF-file as offline version or backup, which includes all self-edited annotations and closely reproduces the layout from the web browser application
EPC.App is available in English and in German (with same content) and encompasses the Articles, Rules, Protocols of the EPC, as well as the Rules relating to Fees, Examination Guidelines, Official Journal articles, case law, etc. The PDF-file makes up more than 600 A4 pages with default settings already without personal user annotations.
For whom is the EPC.App?
EPC.App is intended for both the Practitioner and the Trainee. It is dedicated to be used when preparing for the European Qualifying Examination (EQE) and for working as a Professional thereafter.
People are different. We believe that the optimum preparation for the EQE requires an annotated EPC which is adapted to the personal needs of the respective user
EPC.App provides a platform and a starting point for doing this efficiently

start with authors' content selections, comments, and markings
adapt all authors' contributions according to your wishes, and add own comments and markings
receive authors' updates during your exam preparation process without losing already created own annotations

There are great books full of detailed information on the EPC
EPC.App helps finding the most relevant information quickly

by filtering out less important information
by allowing electronic content search
by providing links to other parts of the EPC and external websites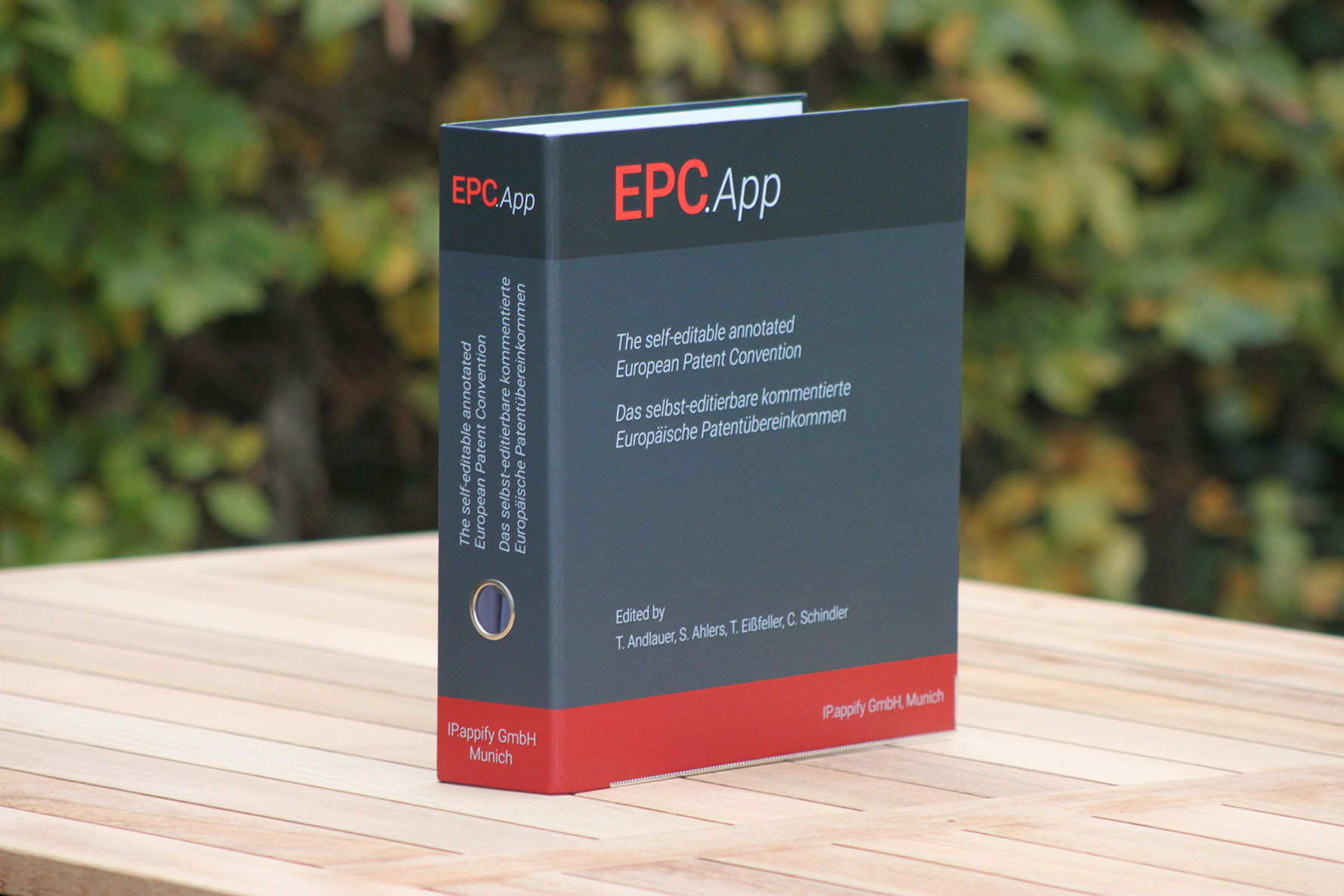 If you are interested in the displayed folder (as long as stocks last), please send an e-mail to support@ipappify.de.
It requires a lot of time and discipline to keep a once prepared EPC up-to-date
EPC.App allows doing this in a time-saving and convenient manner

by author-provided automatic updates
by automatically generated notes informing which of your own comments require reconsideration, and automatic copying of unaffected comments

It is difficult to efficiently remember important case law retrieved over time
EPC.App allows building up your own annotated case law database

plural thousands Boards of Appeal decisions including headnotes and web-links to the full text, and the possibility to add own summarizing comments
variable placement of decision (e.g. next to a related article)
always available in a cloud storage as well as in a printable local pdf copy